Will the Dussehra break help the benchmark indices recover from the bloodbath of the previous session when it resumes trading on October 25?
"The Nifty has broken below the immediate supports of 19,480 and 19,330 levels in one session. The weekly crucial support of 20-week EMA has been broken on the lower side at 19,340 levels," Nagaraj Shetti, technical research analyst at HDFC Securities said. The short-term trend for the Nifty continues to be negative.
On October 23, the Sensex tanked 826 points or 1.26 percent to 64,572 and the Nifty plunged 261 points or 1.34 percent to 19,282 on the escalation in the Israel-Hamas war and rising US bond yields.
With the Nifty slipping below the 19,300 mark, the crucial support for the current month, and weak market breadth, the bears seem firmly in control.
The index, which formed a long bearish candlestick on the daily charts, is close to the August low of 19,224. If the Nifty slips below it, it can slide to 19,000, followed by 200-day EMA (exponential moving average placed at 18,825), experts said. On the higher side, 19,500-19,600 is expected to be a hurdle, Shetti said.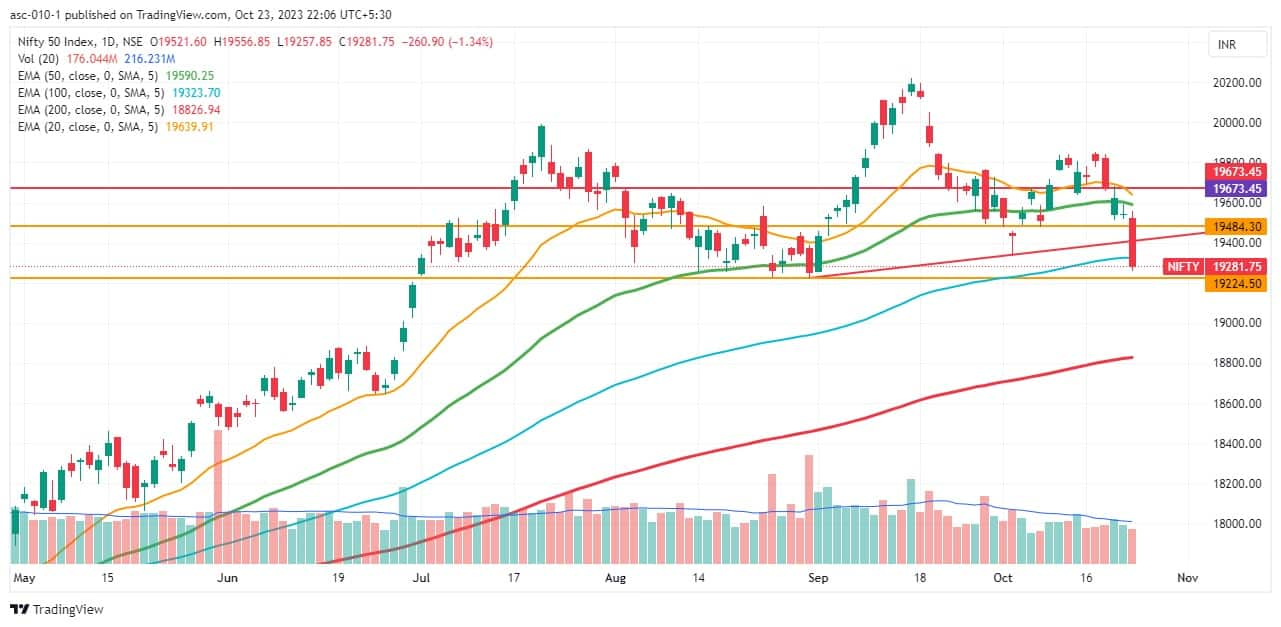 We have collated 15 data points to help you spot profitable trades:
Note: The open interest (OI) and volume data of stocks are the aggregates of three-month data and not just the current month.
Key support and resistance levels on Nifty
The pivot point calculator indicates that the Nifty may take support at 19,251 followed by 19,181 and 19,066. On the higher side, 19,309 can be the immediate resistance followed by 19,550 and 19,664.
Nifty Bank
On October 23, the Bank Nifty closed below the 200-day EMA (43,268) for the first time since March, forming a long bearish candlestick with a minor shadow on the daily charts with average volumes, which is a negative sign. The index closed 572 points, or 1.31 percent, lower at 43,151 and if the index slips below 43,000, major selling pressure can't be ruled out.
"On the way down, 43,000 is the psychological level and below that it can slip towards 42,490," Jatin Gedia, technical research analyst at Sharekhan by BNP Paribas said. The weakness is likely to persist over the next few trading sessions, he said.
As per the pivot point calculator, the banking index is expected to take support at 43,031, followed by 42,842 and 42,535. On the upside, the initial resistance is at 43,225, then at 43,833 and at 44,139.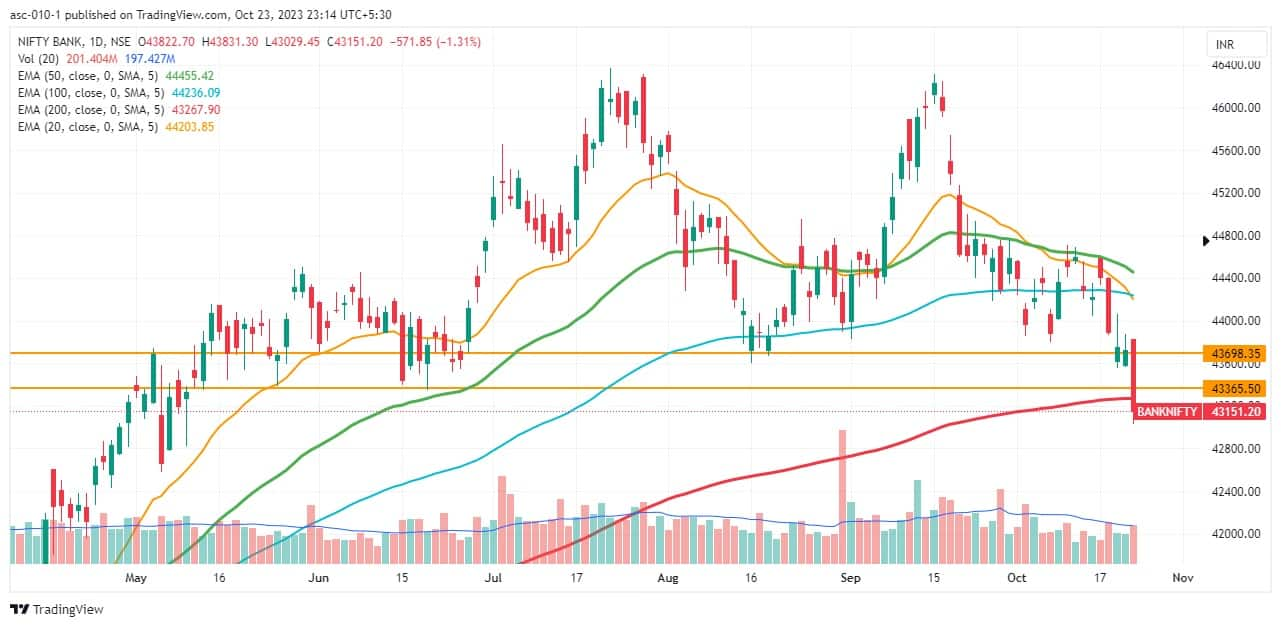 Call options data
As per monthly options data, the maximum Call open interest (OI) was at 19,600 strike with 1.13 crore contracts, which can act as a key resistance for the Nifty. It was followed by the 19,500 strike, which had 1.09 crore contracts, while the 19,800 strike had 1.02 crore contracts.
Meaningful Call writing was seen at 19,400 strike, which added 66.86 lakh contracts, followed by 19,500 and 19,300 strikes, which added 65.51 lakh and 34.04 lakh contracts.
Maximum Call unwinding was visible at 20,100 strike, which shed 21.54 lakh contracts, followed by 18,000 and 20,800 strikes, which shed 99,900 and 68,000 contracts.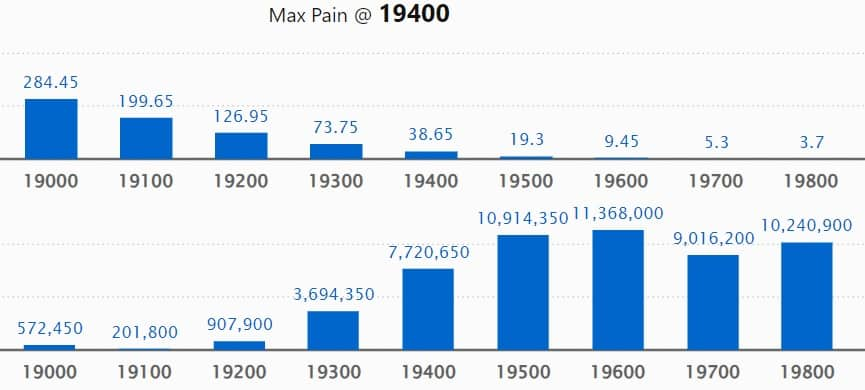 Put option data
On the Put side, the maximum open interest was at 19,000 strike, with 85.74 lakh contracts, which can act as key support for the Nifty in the coming sessions.
It was followed by 18,000 strike comprising 52.59 lakh contracts and 19,200 strike with 51.7 lakh contracts.
Meaningful Put writing was at 19,200 strike, which added 14.31 lakh contracts, followed by 19,100 strike and 18,500 strike, which added 13.48 lakh and 5.8 lakh contracts.
Put unwinding was at 19,500 strike, which shed 34.34 lakh contracts, followed by 19,600 strike and 19,400 strike, which shed 22.52 lakh and 20.07 lakh contracts.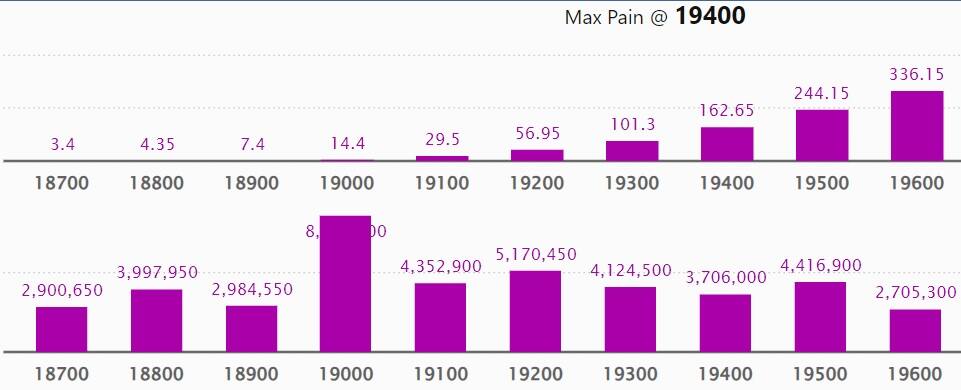 Stocks with high delivery percentage
A high delivery percentage suggests that investors are showing interest in the stock. Mahindra & Mahindra, Hindustan Unilever, InterGlobe Aviation, Bharti Airtel, and Godrej Consumer Products saw the highest delivery among the F&O stocks.

4 stocks see a long build-up
A long build-up was seen in Balkrishna Industries, Ipca Laboratories, Muthoot Finance and Abbott India. An increase in open interest (OI) and price indicates a build-up of long positions.

117 stocks see long unwinding
Based on the OI percentage, 117 stocks, including M&M Financial Services, Atul, LTIMindree, Coromandel International, and Laurus Labs, saw a long unwinding. A decline in OI and price indicates long unwinding.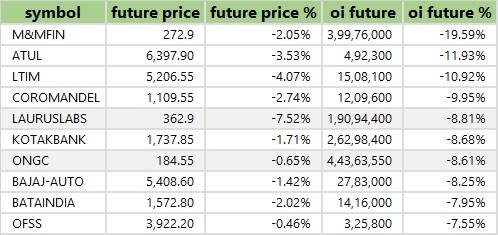 59 stocks see a short build-up
A short build-up was seen in 59 stocks, including HDFC AMC, Persistent Systems, SBI Card, Gujarat Narmada Valley Fertilizers and Chemicals and MRF. An increase in OI along with a fall in price points to a build-up of short positions.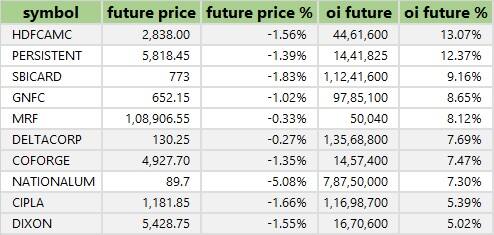 8 stocks see short-covering
Based on the OI percentage, 8 stocks were on the short-covering list. A decrease in OI along with a price increase is an indication of short-covering.

Bulk deals
Amber Enterprises India: Franklin Templeton Mutual Fund bought 2 lakh shares, which 0.6 percent of the paid-up equity, in the company via open market transactions at an average price of Rs 2,820 a share.
Visa Steel: Foreign portfolio investor Trinity Opportunity Fund I exited the high carbon ferro chrome-making company by selling its entire shareholding of 47.07 lakh shares, or 4.07 percent stake, at an average price of Rs 15.75 a share. Lotus Global Investment Fund bought the entire stake.

Results on October 25
Axis Bank, Tech Mahindra, Indus Towers, Chalet Hotels, CMS Info Systems, Chennai Petroleum Corporation, Dreamfolks Services, Gulf Oil Lubricants India, Jubilant FoodWorks, Lakshmi Machine Works, Network18 Media & Investments, Rallis India, Asahi Songwon Colors, Aurionpro Solutions, Sona BLW Precision Forgings, Sonata Software, Star Housing Finance, TV18 Broadcast, and Welspun India will be in focus ahead of quarterly earnings on October 25.
Stocks in the news
Reliance Industries: Reliance is nearing a cash and stock deal to buy Walt Disney's India operations, according to people familiar with the matter. The US entertainment giant may sell a controlling stake in the Disney Star business, which it values at around $10 billion. Reliance views the assets at between $7 billion to $8 billion. The said acquisition could be announced as early as next month with some of Reliance's media units merged into Disney Star.
Torrent Pharmaceuticals: The Ahmedabad-based pharma company reported a 23.7 percent on-year increase in consolidated profit at Rs 386 crore for the September quarter, with revenue rising 16.1 percent to Rs 2,660 crore. India business grew by 18 percent YoY to Rs 1,444 crore, Brazil up 36 percent and Germany 21 percent, but US business fell by 15 percent to Rs 248 crore.
PNB Housing Finance: The housing finance company registered a 46 percent on-year growth in consolidated profit at Rs 383 crore for the July-September period of FY24, led by the decline in impairment on financial instruments & write-offs. Net interest income increased by 2 percent YoY to Rs 661 crore.
Lupin: The company received the United States Food and Drug Administration's approval for its abbreviated new drug application for Fluconazole tablets to market the generic equivalent of Diflucan tablets of Pfizer in the United States.
Mahindra Logistics: The third-party logistics service provider has posted a consolidated loss of Rs 16 crore for the July-September period of FY24 against a profit of Rs 11 crore in the same period last year, impacted by lower EBITDA and margin. Revenue at Rs 1,365 crore increased by 2.9 percent over a year-ago period but EBITDA fell 20.6 percent to Rs 54 crore.
NHPC: The state-run power has achieved a major milestone by daylighting the head race tunnel (HRT) of Parbati-II HE project (800 MW) in Himachal Pradesh. This breakthrough has been achieved in the longest face of the HRT having a length of 13.118 km. The project is expected to be completed by the end of September 2024.
Mahindra Holidays and Resorts India: Arun Nanda resigned as the chairman of the company's material subsidiary Holiday Club Resorts Oy, Finland (HCR), with effect from October 20. The company appointed CP Gurnani as the chairman of the board of HCR.
Fund Flow (Rs Crore)

FII and DII data
Foreign institutional investors bought shares worth Rs 252.25 crore, while domestic institutional investors purchased Rs 1,111.84 crore worth of stocks on October 23, provisional data from the National Stock Exchange showed.
Stocks under F&O ban on NSE
The NSE has added RBL Bank to its F&O ban list for October 25, while Indiabulls Housing Finance has been removed from the list.
Securities banned under the F&O segment include companies where derivative contracts cross 95 percent of the market-wide position limit.