Global engineering services firm Tata Technologies raised Rs 791 crore from 67 investors through the anchor book on November 21, a day before the Tata Group's first IPO in almost 20 years opens for subscription. The funds were raised at the higher end of the Rs 475-500 price band.
The initial public offering, which comes after that of Tata Consultancy Services (TCS) in 2004, will open for subscription on November 22 and close on November 24.
"Tata Technologies in consultation with the book running lead managers has finalised allocation of 1,58,21,071 equity shares to anchor investors, at a price of Rs 500 per share," the company said in its filing to exchanges.
Global investors like Goldman Sachs, Government Pension Fund Global, BNP Paribas Funds, Prudential Assurance Company, HSBC Global, Florida Retirement System, Oaktree Emerging Markets Equity Fund, Brinker Capital Destinations Trust, Great Eastern Life-Singapore Life Insurance Fund, RBC Asia Pacific Ex-Japan Equity Fund, and Copthall Mauritius Investment participated in the anchor book.
Domestic mutual funds and insurance companies, including SBI Mutual Fund, ICICI Prudential Mutual Fund, Nippon Life, Aditya Birla Sun Life Trustee, Franklin Templeton Mutual Fund, SBI Life Insurance Company, Kotak Mutual Fund, DSP Mutual Fund, HDFC Life Insurance Company, Mirae Asset Mutual Fund, Bandhan Mutual Fund, Edelweiss Trusteeship, Motilal Oswal Mutual Fund, Sundaram Mutual Fund, Axis Mutual Fund, Canara Robeco Mutual Fund, Kotak Mahindra Life Insurance Company, JM Financial Mutual Fund, Bajaj Allianz Life Insurance Company, and Bharti Axa Life Insurance Company also invested in the Pune-based firm.
Of the total 1,58,21,071 equity shares in the anchor book, 13 domestic mutual funds have applied for the public issue through a total of 39 schemes," Tata Technologies said.
Anchor investors are institutional investors invited to subscribe to shares before an IPO opens to shore up investor confidence.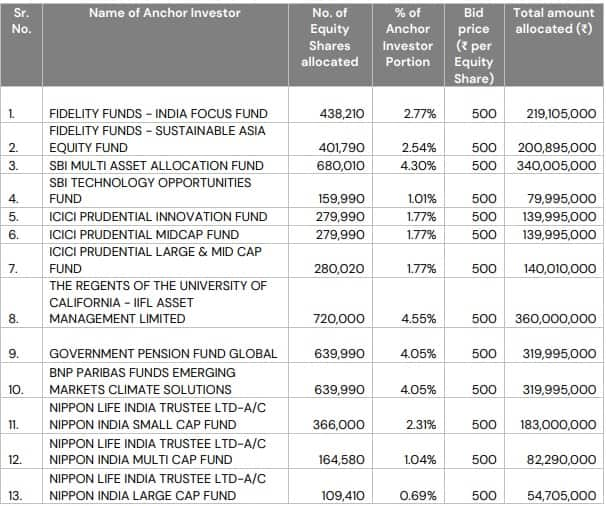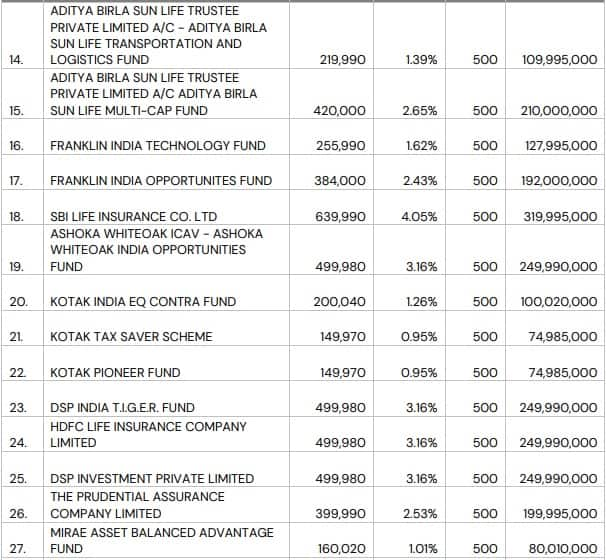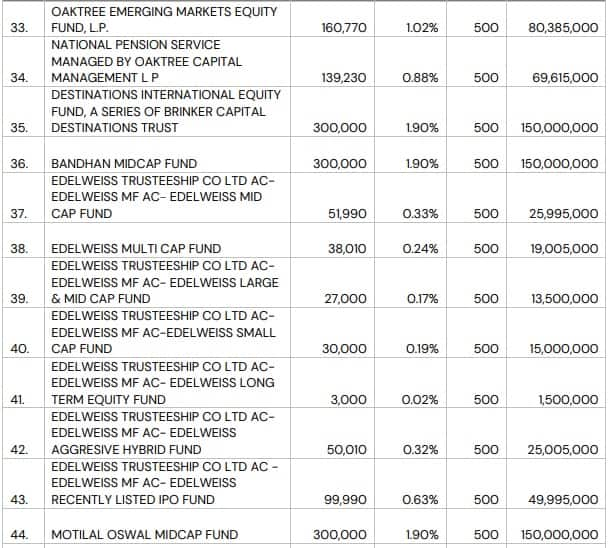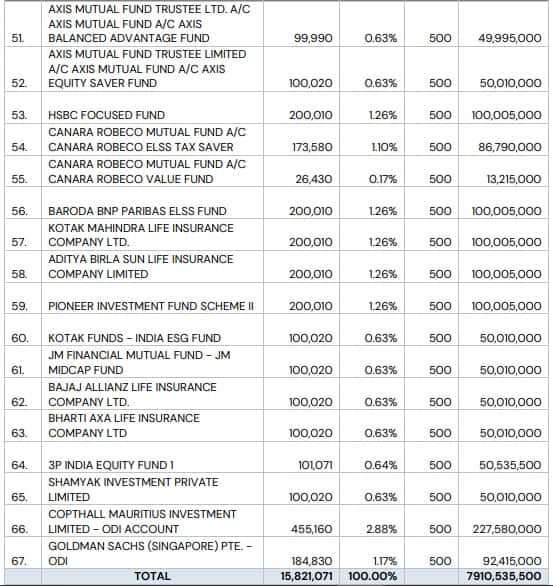 The Tata Group company, which offers product development and digital solutions to global original equipment manufacturers and their tier-1 suppliers, is looking to mobilise Rs 3,042.51 crore through 6.08 crore equity shares at the upper price band.
The IPO is only an offer-for-sale (OFS) by promoter Tata Motors, and investors Alpha TC Holdings & Tata Capital Growth Fund I. The entire issue proceeds, excluding IPO expenses, will go to the selling shareholders.
The firm has reserved 20.28 lakh equity shares for its employees and 60.85 lakh for Tata Motors shareholders. The IPO, excluding employees' and shareholders' portion, is the net issue.
Half of the net offer size has been reserved for qualified institutional buyers, 15 percent for high networth individuals and the remaining 35 percent for retail investors.
Tata Technologies IPO shares were available at a massive 70 percent premium in the grey market over the upper price band, analysts said on condition of anonymity. The grey market is an unofficial platform for trading in the IPO shares till the listing.
Generally, investors look at the grey market premium to know the expected listing price.
"This 70 percent premium is something that everybody likes to have in their portfolio. However grey market is highly speculative and non-regulated. It also doesn't track the financials of the very stock," Akhil Bhardwaj, senior partner at Alpha Capital said.
The subscription for Tata Technologies should only be done on the scanning of the financials of the company, he advised.