Somewhere between despair and dividends, lies ITC.
For many years, there were three paths available to someone looking to develop the virtue of stoicism – buying an under-construction flat in Delhi-NCR, becoming a litigant, or investing in ITC.
While the first two options still retain their charm, those who went for the third are now finally reaping the rewards.
The cigarettes-to-FMCG giant has at long last woken up from its slumber, crossing the psychologically important milestone of Rs 400 on April 17.
It has posted gains of 48 percent over the past year – making it the top performer in the Nifty 50 pack.
Once the proverbial under-achiever, ITC is today clearly marching to the beat of a different drum, comfortably outperforming not just its domestic peers but also its global counterparts on the MSCI ACWI Tobacco Index.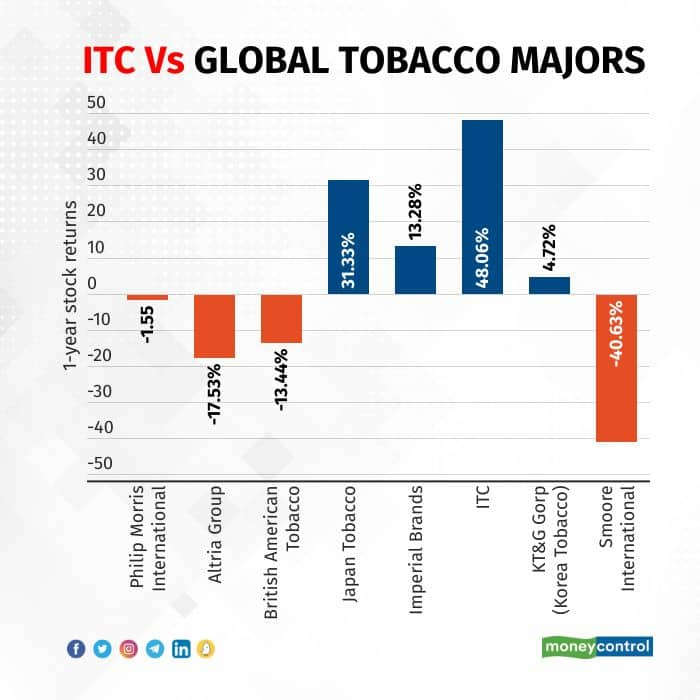 1,000-crore club and intends to scale these further.
The hotel industry is also seeing never-before demand and ITC is looking to capture a slice of the overseas pie as well.
Clearly, the company has considerable leeway for growth.
But as its investors know so well, the correlation between business performance and stock appreciation can be thinner than the delectable rice vermicelli served in ITC Maurya.
This means that while the stock may be having its well-deserved moment in the sun right now, another period of prolonged consolidation cannot be ruled out.
So what should investors do in that case?
Maybe just sit tight, count the dividends, and enjoy the memes on Twitter.