The market had a nice rebound on March 3, taking the benchmark indices higher by 1.5 percent, the highest single-day gains since November 11 last year. The hope for 25 bps rate hike by the Fed instead of 50 bps in next policy meeting, rally in Adani group stocks after huge fundraising via stake sale, high FII inflow and better-than-expected services PMI data for February lifted sentiment.
Buying was seen across sectors with metal, banking & financial services, FMCG and oil & gas stocks being the leading gainers.
The BSE Sensex jumped 900 points to 59,809, while the Nifty50 spiked 272 points to 17,594 and formed long bullish candlestick pattern on the daily charts with above average volumes.
"A long bull candle was formed on the daily chart, which is indicating an upside breakout of the consolidation movement of last few sessions. Friday's upmove seems to have confirmed the lower bottom reversal at 17,255 on February 28, of the larger negative pattern of lower tops and bottoms," said Nagaraj Shetti, Technical Research Analyst at HDFC Securities.
Presently, Nifty is in an attempt of staging upside breakout of the initial hurdle at 17,600 levels and a move above this area could open the next upside resistance of around 17,800 levels in the near term, he feels.
Immediate support is placed at 17,450 levels, he said.
Immediate support is placed at 17,450 levels, he said.

The volatility also dropped further, helping the bulls stay comfortable. India VIX, the fear index declined by 6.09 percent to 12.18 levels, down from 12.97 levels.
The market will remain shut on March 7 for Holi.
We have collated 15 data points to help you spot profitable trades:
Note: The open interest (OI) and volume data of stocks in this article are the aggregates of three-month data and not just the current month.
Key support and resistance levels on the Nifty
As per the pivot charts, the Nifty has support at 17,473, followed by 17,421 and 17,338. If the index moves up, the key resistance levels to watch out for are 17,639, followed by 17,690 and 17,773.
Nifty Bank
The Nifty Bank surged 862 points or 2.13 percent to 41,251, the highest closing level since February 16, and formed long bullish candlestick pattern on the daily charts, with above average volumes.
"Bank Nifty formed a double bottom pattern as it is outperforming the benchmark indices. 41,550-42,000 is an immediate resistance level. Above 42,000, we can expect a short-covering rally towards 42,700 level, while 41,000 and 40,700 will be the support levels on the downside," said Pravesh Gour, Senior Technical Analyst at Swastika Investmart.
The important pivot level, which will act as a support, is at 40,783, followed by 40,597 and 40,298. On the upside, key resistance levels are 41,382, followed by 41,567, and 41,867.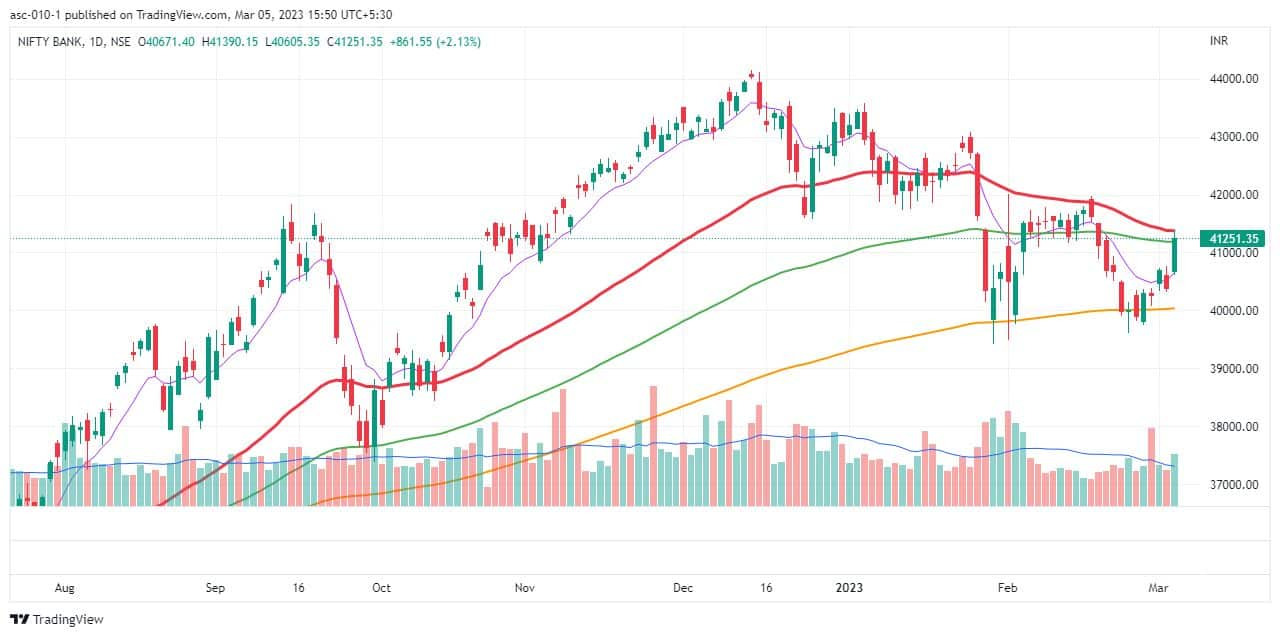 Call option data
With the rally on last Friday, on a weekly basis, now the maximum Call open interest (OI) was seen at 18,000 strike, with 70.7 lakh contracts, which may remain a crucial resistance level for the Nifty in the coming sessions.
This is followed by a 17,900 strike, comprising 65.28 lakh contracts, and a 17,700 strike, where there are more than 50.1 lakh contracts.
Call writing was seen at 17,900 strike, which added 23.53 lakh contracts, followed by 17,700 strike, which have addition of 23.14 lakh contracts, and 17,800 strike which saw 20.83 lakh contracts addition.
We have seen Call unwinding at 17,400 strike, which shed 44.21 lakh contracts, followed by 17,500 strike which shed 17.65 lakh contracts, and 17,300 strike which shed 12.92 lakh contracts.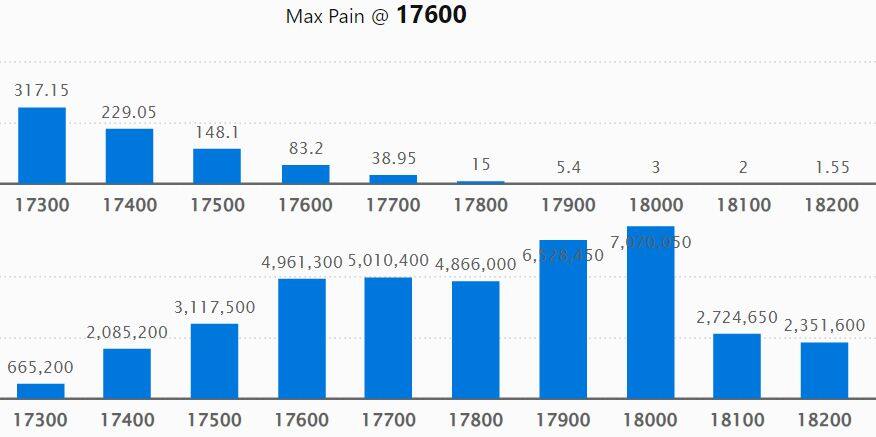 Put option data
On a weekly basis, we have seen the maximum Put OI at 17,500 strike, with 83.6 lakh contracts, which is expected to act as a crucial support zone for the Nifty50 in coming sessions. In fact, this support level has also been shifted higher from 17,300 earlier, due to recent rally.
This is followed by the 17,000 strike, comprising 68.18 lakh contracts, and the 17,400 strike, where we have 66.93 lakh contracts.
Put writing was seen at 17,500 strike, which added 69.21 lakh contracts, followed by 17,600 strike with 47.15 lakh contracts, and 17,400 strike with 36.56 lakh contracts.
We have seen Put unwinding at 16,900 strike, which shed 22,600 contracts, followed by 18,200 strike which shed 4,850 contracts, and 18,100 strike which shed 4,600 contracts.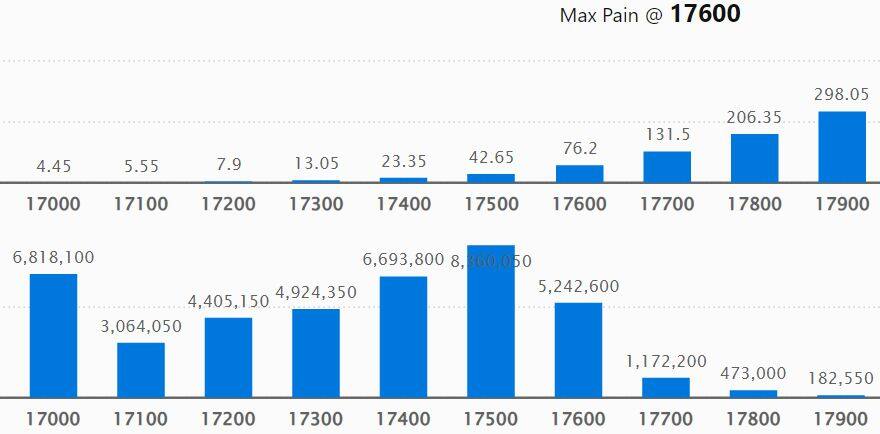 Stocks with high delivery percentage
A high delivery percentage suggests that investors are showing interest in these stocks. The highest delivery was seen in Oracle Financial, Petronet LNG, Bata India, Ipca Laboratories, and Bharti Airtel, among others.

68 stocks see a long build-up
An increase in open interest (OI) and an increase in price mostly indicate a build-up of long positions. Based on the OI percentage, 68 stocks including Tata Steel, Power Finance Corporation, M&M Financial Services, Apollo Tyres, and Navin Fluorine International, saw a long build-up.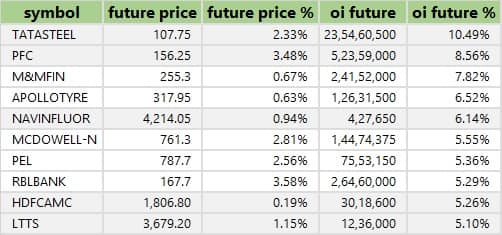 13 stocks see long unwinding
A decline in OI and a decrease in price, in most cases, indicate long unwinding. Based on the OI percentage, 13 stocks including Metropolis Healthcare, Syngene International, Torrent Pharma, Indian Energy Exchange, and Samvardhana Motherson International, witnessed a long unwinding.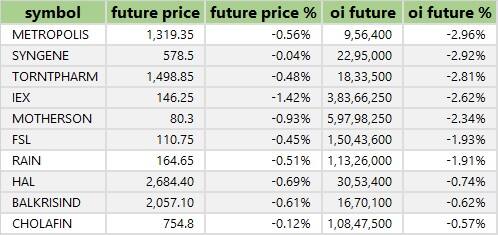 32 stocks see a short build-up
An increase in OI accompanied by a decrease in price mostly indicate a build-up of short positions. Based on the OI percentage, 32 stocks including Bharat Forge, Cipla, Voltas, ICICI Lombard General Insurance, and NMDC, saw a short build-up.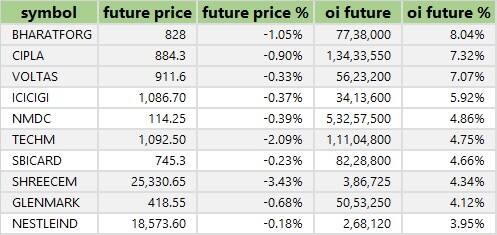 80 stocks see short-covering
A decrease in OI along with an increase in price is an indication of short-covering. Based on the OI percentage, 45 stocks were on the short-covering list. These included Adani Ports, Manappuram Finance, MCX India, Atul, and Maruti Suzuki India.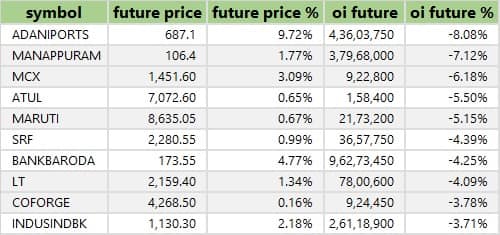 Bulk Deals
Manappuram Finance: SBI Mutual Fund has acquired 48 lakh equity shares (over half a percent) in the company via open market transactions at an average price of Rs 106.59 per share.

Investors' meetings on March 6
Tata Communications: Officials of the company will participate in ICICI Securities Corporate Roadshow in US.
Speciality Restaurants: Company's officials will interact with Svan Investments, and Sage one Investments.
One 97 Communications: Officials of the company will participate in MS Flagship TMT Conference.
Eicher Motors: Company's officials will interact with Avendus Capital.
Titan Company: Officials of the company will interact with Ashmore Investment Management, and Soros Capital Management.
Five-Star Business Finance: Company's officials will be meeting investor/analysts at Singapore.
Stocks in the news
Info Edge India: Redstart Labs (India), a wholly-owned subsidiary of the company, has agreed to invest about Rs 5.2 crore in Sploot, a community and content-led platform for pet parenting. Redstart will acquire 1,822-compulsorily convertible preference shares as primary acquisition of shares. The aggregate shareholding of the company through Redstart, post this investment, in Sploot would be 24.13 percent on fully converted & diluted basis.
Mahanagar Gas: The company is going to acquire Unison Enviro, a city gas distribution company and a subsidiary of Ashoka Buildcon, for Rs 531 crore. The acquisition of shareholding in Unison is subject to PNGRB approval. Unison is authorised by PNGRB to implement the city gas distribution network in Ratnagiri, Latur & Osmanabad in Maharashtra and Chitradurga & Devengere in Karnataka. For the said sale transaction, Ashoka Buildcon along-with North Haven India Infrastructure Fund managed by Morgan Stanley Investment Management has entered into a Share Purchase Agreement with Mahanagar Gas.
Power Grid Corporation of India: The state-owned power transmission utility was declared as successful bidder to establish inter-state transmission system for two projects on build, own operate and transfer (BOOT) basis, in Chhattisgarh. The company has received letters of intent for two projects on March 2.
Kansai Nerolac Paints: The paint company has acquired 40 percent stake in Nerofix from Polygel, for Rs 37 crore. Now Nerofix will become a wholly- owned subsidiary of Kansai. Nerofix was a joint venture between Polygel Industries and Kansai Nerolac Paints. The acquisition is expected to be completed by March 31, 2023. Kansai Nerolac had acquired 60 percent stake of Nerofix in January 2020.
Hindustan Aeronautics: The state-owned aerospace company has received Income Tax refund order from Office of Joint Commissioner of IT for Assessment Year 2012-13, pursuant to the direction of ITAT, Bangalore. ITAT allowed R&D expenditure of Rs 725.98 crore as capital expenditure, resulting in refund of Rs 570.05 crore. This refund includes interest of Rs 163.68 crore.
Orchid Pharma: The company and its subsidiary Orchid Bio Pharma has entered into a Memorandum of Understanding (MoU) with an overseas technology provider for in-licensing 7ACA technology. In July 2022, Orchid-Bio Pharma got approval under the production linked incentive (PLI) Scheme for manufacturing of product '7 ACA'.
PNC Infratech: The road infrastructure company has received 'provisional certificate' for national highway project of National Highways Authority of India, implemented by its subsidiary PNC Triveni Sangam Highways, from Independent Engineer (SA Infrastructure Consultants). The project is of 6-laning of Chakeri to Allahabad section of NH-2 in Uttar Pradesh under NHPD Phase-V on Hybrid Annuity Mode (HAM) for completed length of 119.788 km out of total project length of 145.066 km. The appointed date for the project was January 12, 2019 with 910 days scheduled construction period and 15 years operation period, post completion. The Independent Engineer recommended the required extension of time for completion of the project.
Linde India: The industrial gases company has invested Rs 7.69 crore in renewable power company FPEL Surya for subscription of 15.39 lakh equity shares (26 percent). The objective of stake acquisition is to purchase renewable power under captive mechanism, which will result in a lower tariff and consequent cost savings.
Zydus Lifesciences: The company has received final approval from the United States Food and Drug Administration (USFDA) for Vigabatrin for oral solution. Vigabatrin for oral solution is indicated for the treatment of refractory complex partial seizures as adjunctive therapy in patients 2 years of age and older. The drug will be manufactured at formulation manufacturing facility in Moraiya, Ahmedabad. Vigabatrin had annual sales of $233.7 million in the United States as per IQVIA MAT data dated December 2022.
Fund Flow

FII and DII data
Foreign institutional investors (FII) bought shares worth Rs 246.24 crore, while domestic institutional investors (DII) purchased shares worth Rs 2,089.92 crore on March 3, the National Stock Exchange's provisional data showed.
Stocks under F&O ban on NSE
The National Stock Exchange has not added any stock in its F&O ban list for March 6. Securities banned under the F&O segment include companies where derivative contracts have crossed 95 percent of the market-wide position limit.