ITC Dividend 2023 Record Date, ITC Share Price NSE Target: ITC shares will trade ex-date for dividend today. The Kolkata based cigarette-to-hotel conglomerate has announced to pay a second interim dividend of the financial year 2022-23 to its shareholders. The company while releasing its third quarter result on February 3, declared that the board has approved the payment of dividends to the investors.
According to an exchange filing by the company, the board has approved 600 per cent dividend per equity share to the shareholders. This translates into Rs 6 dividend per share having face value of Re 1 each.  
"The Board of Directors declared Interim Dividend of Rs 6 per Ordinary Share of Rs 1- each for the financial year ending on 31st March, 2023," ITC had said in a regulatory filing.
ITC Dividend 2023 Record Date
The board had also announced the record date. A record date is nothing but a date that enables a company to determine the eligibility of shareholders for receiving the benefits of corporate actions like dividend, bonus, split and more. ITC dividend record date and ex date is February 15, according to the filing.
..fixed Wednesday, l5th February, 2023 as the Record Date for the purpose of determining entitlement of the Members for such Interim Dividend," company's filing said.
ITC Dividend 2023 Payment Date
The company will pay out dividend between March 3 to 5. "Dividend will be paid between Friday, 3rd March, 2023 and Sunday, S'h March, 2023 to those Members entitled," the company's filing said.
ITC Share Price Target 2023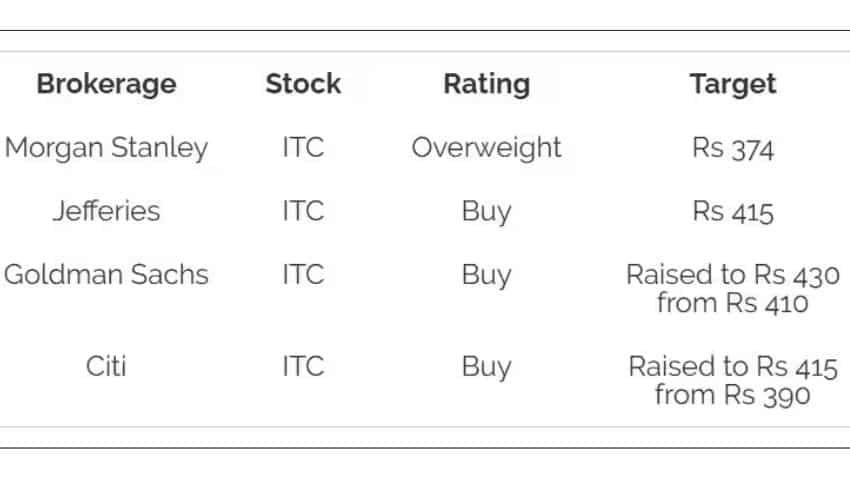 ITC Share Price History
Shares of ITC have yielded a whopping 73 per cent return in the past one year, resulting in wealth gain for its investors. YTD, the stock has advanced nearly 16 per cent. At current market levels, ITC has a market cap of 4.80 lakh crore.
ITC Q3FY23 Result
ITC Ltd on Friday reported a 23.09 per cent increase in consolidated net profit at Rs 5,070.09 crore for the third quarter ended December 2022, helped by growth momentum across its operating segments. It had posted a net profit of Rs 4,118.80 crore in the same quarter a year ago period.
The diversified company's revenue from operations was up 3.56 per cent to Rs 19,020.65 crore during the quarter under review, as against Rs 18,365.80 crore in the corresponding period of the previous fiscal.
"The company sustained its strong growth momentum across all operating segments during the quarter driven by focus on accelerated digital adoption, customer centricity, execution excellence and agility," ITC said in its earnings statement.