After showing weakness from highs in previous session, the market continued selling pressure amid rangebound trade on February 17 and closed the day with half a percent loss due to correction in all sectors and weak global cues.
The BSE Sensex declined 317 points to 61,003, while the Nifty50 fell 92 points to 17,944 and there was small bodied bearish candle formation with long upper and lower wicks on the daily charts.
"Technically, this pattern indicates minor reversal in the market from the highs. The minor degree positive chart pattern like higher tops and bottoms continued on the daily chart and present weakness could be in line with a new higher bottom formation. But, there is no confirmation of any higher bottom reversal yet at the lows," said Nagaraj Shetti, Technical Research Analyst at HDFC Securities.
He feels the short-term trend of Nifty is choppy with weak bias.
"The present weakness has not damaged the near term uptrend status of the market so far and we expect chances of buying emerging from near the lower support of around 17,800 levels in the coming week. On the higher side, the area of 18,150 could act as a resistance," the market expert said.
The broader markets also traded in line with benchmarks as the Nifty Midcap 100 index fell 0.8 percent and Smallcap 100 index declined 0.6 percent on weak breadth.
We have collated 15 data points to help you spot profitable trades:
Note: The open interest (OI) and volume data of stocks in this article are the aggregates of three-month data and not just the current month.
Key support and resistance levels on the Nifty
As per the pivot charts, the Nifty has support at 17,897, followed by 17,862 and then 17,805. If the index moves up, the key resistance levels to watch out for are 18,011, followed by 18,047 and 18,104.
Nifty Bank
The Nifty Bank extended losses for yet another session, falling 500 points to 41,132. The index has underperformed broader markets and formed bearish candlestick pattern on the daily charts with making lower high lower low formation.
"The index remains in a sell mode as long as it sustains below the level of 41,500. The index immediate support stands at 41,000 and if it fails to sustain it on a closing basis will accelerate the downside move towards 40,000 levels," said Kunal Shah, Senior Technical Analyst at LKP Securities.
The important pivot level, which will act as a support, is at 40,935 followed by 40,785 and 40,543. On the upside, key resistance levels are 41,419, followed by 41,568, and 41,811.
Call option data
On a monthly basis, we have seen the maximum Call open interest (OI) at 18,000 strike, with 1.17 crore contracts, which may be a crucial level for the Nifty in coming sessions.
This is followed by an 18,500 strike, comprising 92.75 lakh contracts, and an 18,100 strike, where there are more than 87.2 lakh contracts.
Call writing was seen at 18,000 strike, which added 62.76 lakh contracts, followed by 18,500 strike which added 44.18 lakh contracts and 17,900 strike which added 38.53 lakh contracts.
We have seen Call unwinding in 18,800 strike, which shed 14.92 lakh contracts, followed by 18,700 strike, which shed 7.18 lakh contracts, and 17,600 strike which shed 1.62 lakh contracts.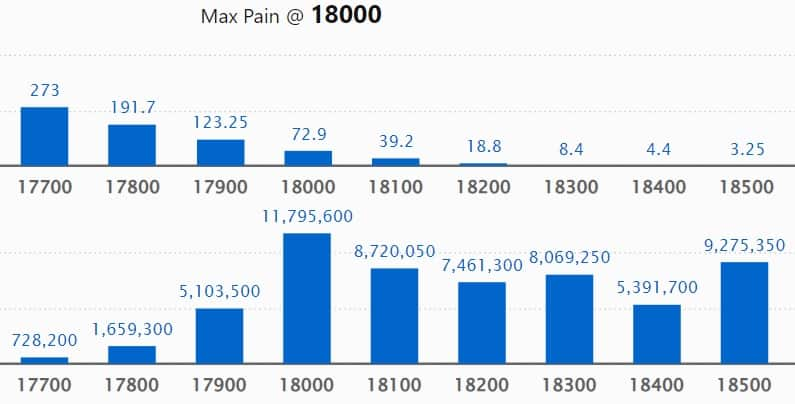 Put option data
On a monthly basis, the maximum Put OI was seen at 18,000 strike, with 69.17 lakh contracts, which is expected to act as a crucial area for the Nifty50 in coming sessions.
This is followed by the 17,500 strike, comprising 64.32 lakh contracts, and the 17,800 strike, where we have 55.94 lakh contracts.
Put writing was seen at 17,900 strike, which added 24.64 lakh contracts, followed by 17,600 strike, which added 13.41 lakh contracts, and 17,800 strike which added 12.78 lakh contracts.
We have seen Put unwinding at 18,100 strike, which shed 13.06 lakh contracts, followed by 18,200 strike which shed 1.31 lakh contracts, and 18,300 strike which shed 37,850 contracts.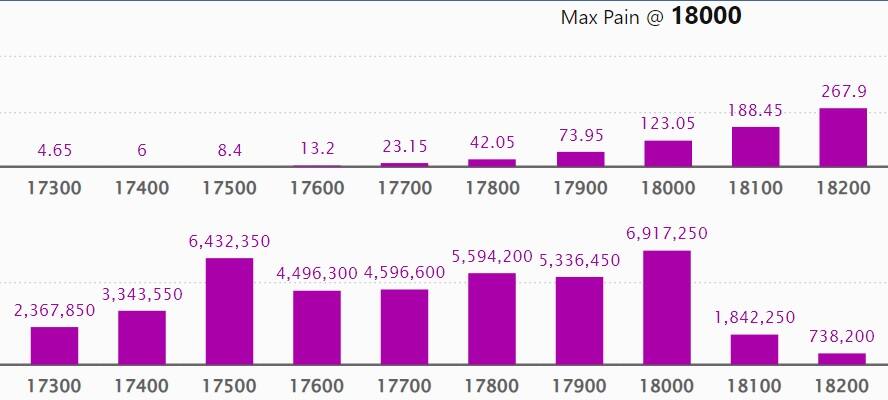 Stocks with high delivery percentage
A high delivery percentage suggests that investors are showing interest in these stocks. The highest delivery was seen in Power Grid Corporation of India, GAIL India, HDFC, Sun Pharma, and Cipla, among others.
An increase in open interest (OI) and an increase in price mostly indicate a build-up of long positions. Based on the OI percentage, 16 stocks, including Shree Cement, Escorts, Ramco Cements, Larsen & Toubro, and Dalmia Bharat, saw a long build-up.
A decline in OI and a decrease in price, in most cases, indicate long unwinding. Based on the OI percentage, 62 stocks including PI Industries, Bata India, Navin Fluorine International, Abbott India, and Apollo Hospitals, witnessed long unwinding.
An increase in OI accompanied by a decrease in price mostly indicate a build-up of short positions. Based on the OI percentage, 98 stocks, including AU Small Finance Bank, L&T Technology Services, Biocon, LIC Housing Finance, and Metropolis Healthcare, saw a short build-up.
A decrease in OI along with an increase in price is an indication of short-covering. Based on the OI percentage, 18 stocks were on the short-covering list. These included Oracle Financial, BPCL, JK Cement, Bharat Forge, and Reliance Industries.
Pricol: Automotive components manufacturer Minda Corporation has acquired 15.7 percent stake or 1.91 crore equity shares in Pricol, the automotive technology and precision engineered solutions company, via open market transactions. Minda bought 1.44 crore shares in Pricol at an average price of Rs 209 per share, and another 46.49 lakh shares at an avearge price of Rs 208.93 per share. However, as per the bulk deals data available on exchanges, there were 10 selling shareholders and they offloaded total 1.43 crore shares or 11.75 percent stake in Pricol at average price of Rs 209 per share, amounting to around Rs 299.45 crore. Aidos India Fund and Minerva Emerging Opportunities Fund were the biggest sellers, offloading 4.92 percent stake, while others were Stream Value Fund, Unique Finman Consultancy, Antara India Evergreen Fund, Radhey Buildhome, Anirudh Damani, Aakarshan Estates, Jainco Finlease & Investment, and M2K Entertainment.
Prince Pipes and Fittings: Norges Bank on account of the Government Pension Fund Global has bought 9.02 lakh shares or 0.81 percent stake in Prince Pipes via open market transactions, at an average price of Rs 585 per share. However, promoters Vipul Jayant Chheda and Parag Jayant Chheda have sold 21.5 lakh shares or 1.94 percent stake in the company at same average price.
(For more bulk deals, click here)
Investors Meet on February 20
Torrent Power, Cipla, Alkem Laboratories, Tata Power, Macrotech Developers, Zomato, FSN E-Commerce Ventures, Axis Bank, PB Fintech, Thyrocare Technologies, Bharat Forge, Kotak Mahindra Bank: Officials of firms will meet investors at KIE Chasing Growth 2023 Conference.
Pidilite Industries: Company's officials will interact with Matthews International Capital Management, and Burgundy Asset Management.
Crompton Greaves Consumer Electricals: Officials of the company will meet IIFL AMC.
UltraTech Cement: Company's officials will meet Sumitomo Mitsui Trust Asset Management, and DSP Mutual Fund.
Eicher Motors: Officials of the company will interact with Eastspring Investments.
Stocks in the news
Sun Pharmaceutical Industries: The company has entered into agreements to acquire minority stake in two medical devices companies. The firm will pick 26.09 percent equity in Agatsa Software, an early-stage digital diagnostic devices company, and 27.39 percent in Remidio Innovative Solutions, a company that provides innovative products enabling early detection of eye diseases.
Dilip Buildcon: The infrastructure company through joint venture Dilip Buildcon – Skyway Infraprojects has received letter of acceptance for Rewa Bansagar Multi Village Scheme, from Madhya Pradesh Jal Nigam Maryadit, Bhopal. The order includes engineering, procurement, construction, testing commissioning, trial run and operation and maintenance of various components of Rewa Bansagar MVS in single package on turnkey job basis. DBL will also do operation & maintenance of the entire water supply scheme for 10 years.
Cipla: Health regulator US Food and Drug Administration has issued 8 observations in Form 483 for Pithampur manufacturing facility of the pharma company. The USFDA conducted a current good manufacturing practices (cGMP) inspection at Pithampur facility during February 6-17, 2023.
Power Grid Corporation of India: The state-owned electric power transmission utility was declared as the successful bidder under tariff-based competitive bidding to establish inter-state transmission system for various projects on build, own operate and transfer (BOOT) basis. The projects included an establishment of 765kV D/C transmission lines passing through Gujarat, 400kV D/C transmission lines traversing through Orissa & Chhattisgarh (bays extension works), new 765/400kV GIS at Khavda in Gujarat, and new 765/400kV substation at Ahmedabad (bays extension work) at Navsari in Gujarat. The company received letter of intent for the said projects.
PNC Infratech: The company's subsidiary Sonauli Gorakhpur Highways Private Limited has achieved financial closure for four-laning of Sonauli – Gorakhpur section of NH-29E on hybrid annuity mode in Uttar Pradesh. The project bid cost is Rs 1,458 crore and construction period for the said road project is 730 days from appointed date.
CRISIL: The rating agency has recorded 6.3 percent year-on-year decline in consolidated profit at Rs 158.02 crore for quarter ended December 2022 due to high base. In Q4CY22, the profit was inflated by exceptional gain of Rs 45.82 crore due to profit on sale of immovable property. Consolidated revenue from operations grew by 16.5 percent YoY to Rs 822.3 crore for the quarter. At the operating level, EBITDA grew by 12.3 percent YoY to Rs 216.2 crore but margin fell 98 bps YoY due to higher employee cost and other expenses.
Pennar Industries: The engineering products and solutions company has bagged orders worth Rs 851 crore under several verticals including steel, tubes, and railways. These orders are expected to be executed within the next two quarters.
KEC International: The infrastructure EPC major has received orders worth Rs 3,023 crore under its civil, cables and transmission & distribution segments. With these orders, its YTD order intake stands at a record level of over Rs 18,500 crore, a growth of over 30 percent YoY.
Hindustan Unilever: The FMCG major has signed an agreement for sale of its atta and salt business carried out under the brands Annapurna and Captain Cook, for Rs 60.4 crore. Both brands are being sold to Uma Global Foods Pte Ltd and Uma Consumer Products, which are subsidiaries of Reactivate Brands International, a Singapore-headquartered company and an affiliate of CSAW Aqbator Pte Ltd. (Singapore). CSAW is focused on acquiring and scaling up food brands to promote affordable wellness. The transaction involves distribution support by HUL to provide transitionary support for a period of 24 months.
Fund Flow

FII and DII data
Foreign institutional investors (FII) sold shares worth Rs 624.61 crore after consistent buying in previous five sessions, while domestic institutional investors (DII) offloaded shares worth Rs 85.29 crore on February 17, NSE's provisional data showed.
Stocks under F&O ban on NSE
The National Stock Exchange has retained Ambuja Cements and Indiabulls Housing Finance on its F&O ban list for February 20. Securities banned under the F&O segment include companies where derivative contracts have crossed 95 percent of the market-wide position limit.