Market moved in a range for another day in February, making it difficult to take trades. As of 10am, the Nifty traded down 0.44 percent to 17,777, dragged by IT and PSU banking marques.
On the options front, call writers were putting pressure on out-of-the-money strikes – 17,800 has most call writers present, followed by 17,900, as they emerge as immediate resistance for the index.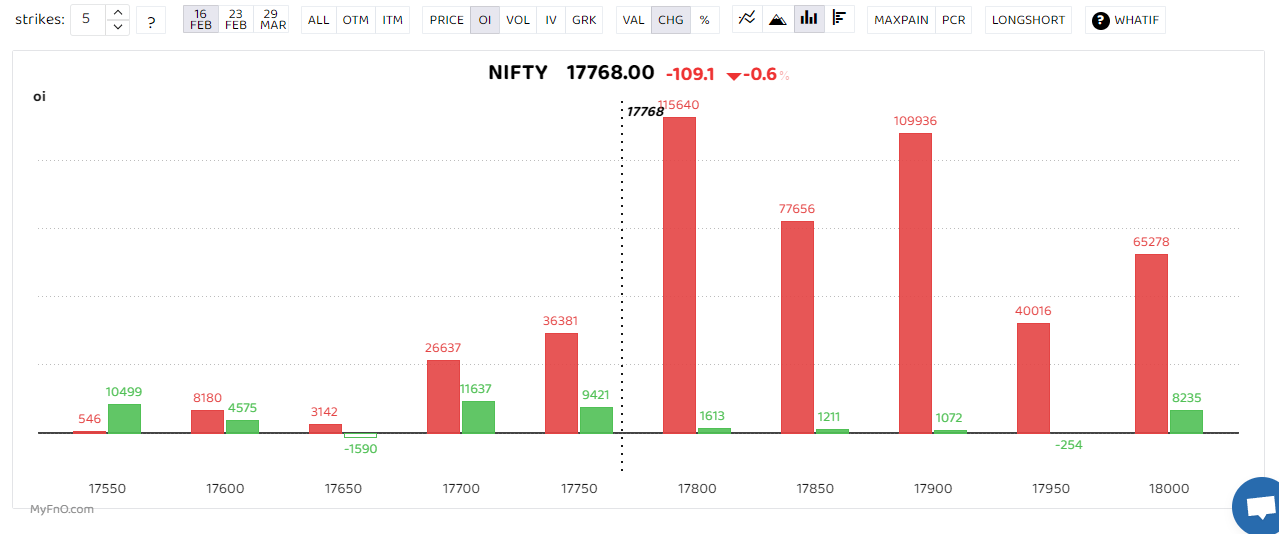 Bars reflect a change in OI during the day. Red bars show call option OI and green put option OI.
Fresh put writers were largely absent, which signals that bears are more active in the market.
"We are short on the index," said Ankush Bajaj, a Chhattisgarh-based trader. He will profit if the market breaks the range to the lower side.
Volatility also increased as India VIX, also known as fear index, climbed 6 percent to 13.53. Rising VIX leads to higher premium for F&O contracts.
Barring metals that saw some long buildup, a bullish sign where price and open interest rise, all sectors saw short buildup. A short build-up happens when price falls but open interest rises.
Banking stocks such as IDFC and City Union Bank were at the forefront of bear onslaught as they saw short buildup. They were followed by Balkrishna Industries, Info Edge, Coforge and Lupin.
Glenmark Phara, Metropolis Healthcare, Nalco and Balrampur Chini were a few that saw long buildup.