Promoters of Adani group companies have repaid $1.114 billion before time to release some pledged shares in Adani Ports & Special Economic Zone, Adani Green Energy and Adani Transmission.
The conglomerate said that this has been done "in light of recent market volatility and in continuation of the promoters' commitment to reduce the overall promoter leverage backed by Adani listed company shares".
With prepayment of $1.114 billion of share-backed facility ahead of maturity of September 2024, about 168 million shares (12 percent stake) of the promoters' holding in Adani Ports, 27.56 million shares (3 percent stake) in Adani Green Energy and 11.77 million shares (1.4 percent stake) in Adani Transmission will be released.
As of December 2022 end, Adani Ports had 17.31 percent stake pledged. After this release, it will come down to 5.31 percent.
Similarly, pledged stake in Adani Green Energy will come down to 1.36 percent from 4.36 percent, and for Adani Transmission it will reduce to 5.22 percent from 6.62 percent as of December end.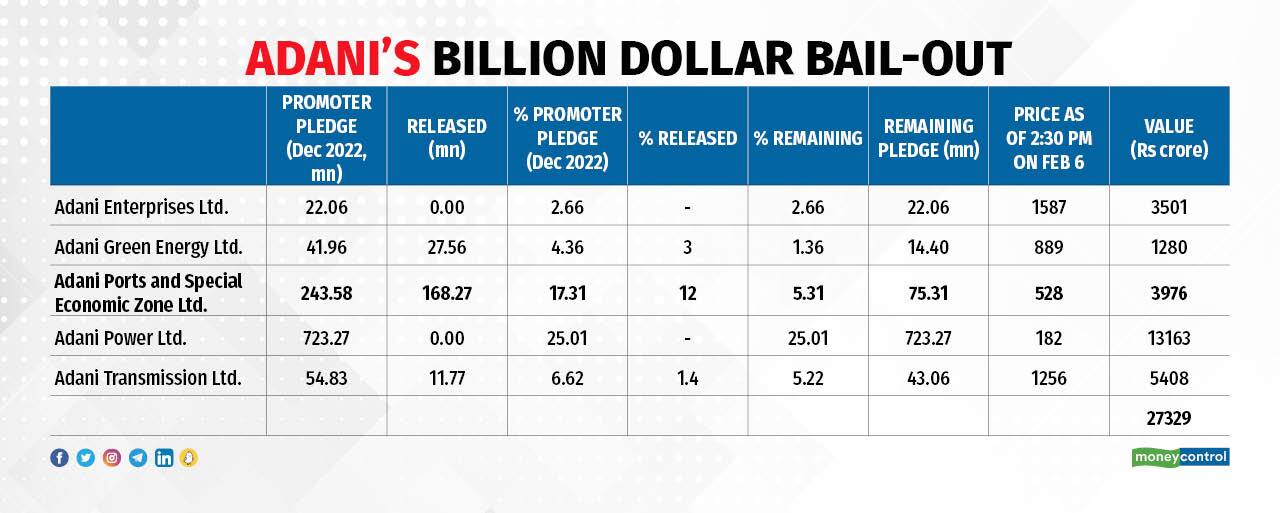 The market value of the remaining pledged stakes, combined with the pledged stake in Adani Power (25 percent) and Adani Enterprises (2.66 percent), stands at Rs 27,329 crore as of 2.30 pm on February 6.
In its report dated January 24, Hindenburg Research had accused the group of 'stock price manipulation by using shares as collateral'. "Equity share pledges are an inherently unstable source of lending collateral because if share prices drop, the lender can make a collateral call," it said.
Following the Hindenburg report, dealing room chatter suggested that the selling pressure in most Adani group stocks – including ACC and Ambuja Cements – was due to margin funding pressure.
Later, Adani Group clarified that none of the shares of Ambuja or ACC have been pledged by promoters. "The promoters have only provided non-disposal undertaking for these companies," they spelled out.
Meanwhile, valuation guru Aswath Damodaran has said that the infrastructure business is full of companies that borrow heavily, with little or no earnings buffer.
"I am puzzled that Hindenburg's short thesis spends as much time as it does trying to convince us that the company (Adani Enterprises) is over levered. Being over levered is not a con game, but a risk that equity investors in many investments take to increase their returns," he wrote.